Dear friends,
we would like to invite your for a HATHA YOGA FLOW classes, which are lead in English by Jenny (UK). Nourishing and revitalising, this hatha flow class is the perfect way to wake up your mind and body. You will stretch, strengthen and energize while connecting body, breath and mind.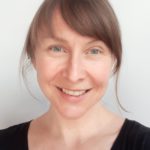 The classes run twice a week:
Mondays 7:30 – 8:30 (Morning Yoga Flow)
Thursdays 18:45 – 20:00 (Hatha Yoga Flow)
If you want to join the class, please book your place in advance using our booking schedule, or just stop by and practice.
The classes are held in our yoga studio Jemný svět near Riegrovy sady at Prague 2 (Chopinova street no. 10)