From November 2023 we have new regular HATHA YOGA classes in English with experienced teacher Luísa Gil:
HATHA YOGA with Luísa in ENGLISH – Tuesdays 16:00 – 17:15
By combining classic haṭha-yoga practices such as postures (āsana), breath expansion (prāṇāyāma), cleansing techniques (kriyā), meaningful gestures (mudrā) and concentration-meditation (dhāraṇā-dhyāna), we establish appropriate body-mind energy circuits and become aware of the dynamic balance that allows us to adapt to the challenges of life.With an attitude of self-study (svādhyāya), we gradually unlock the body and reduce mental noise, leading each one to experience their own inner nature and enjoy a fulfilling existence.
The class is opened for all levels of practitioners.
If you have bring your own yogamat or you can borrow ours.
You can book a place in our schedule or come without prior notification.
About Luísa: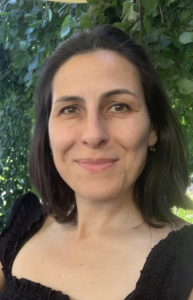 Since the year 2010 dedicated to learning and teaching YOGA, I'm passionate to research and to share what I discover from this barefoot practice that opens the awareness about oneself and the surroundings, connecting the individual with the universe.
As a yoga enthusiast, I am committed to promoting the practice of yoga by teaching classes, organizing, and participating in events to disclosure this individual transformative experience that can positively change the world.
Service to the yogic community and to society in general has driven my action as a volunteer for non- profit associations over the last 10 years.
Yoga Teachers worth of special reference in my journey are Alexandra Prazeres, Isabel Cristina, Ruth Huber, Walter Ruta (disciple of Sri Sri sri Satchidananda Yogi), Malek Daouk (disciple of Desikachar, following the tradition of Krishnamacharya) and Gejza Timčák (Savita yoga).
YOGA TEACHER TRAININGS:
2023 A HYMSIN Immersion (21 days), Rishikesh, India
2022 – 2023 SAVITA YOGA Workshops
2020 – 2021 PRAMITI Formazione Sperimentale per L'Approfondimento… Yoga
2019 – 2020 ANATOMYOGA® Formazione Superiore Anatomia Applicata … (250h | 1 year)
2018 – 2019 ETUDE ET FORMATION À l'ENSEIGMENT DU YOGA | YOGA SUISSE
2011 – 2015 PORTUGUESE YOGA FEDERATION (500h | 4 years)
YOGA TEACHING EXPERIENCE:
2019 – 2022 [Individual Classes]
2017 – 2019 LADIES CLUB LAUSANNE
2015 – 2016 SHANKARA YOGA STUDIO
2014 – 2015 INTERGENERATIONAL ACADEMY OF ALFORNELOS 2013 – 2014 PUXA E ESTICA GYMNASIUM
2010 – 2017 ORIENT MUSEUM [Substitute Teacher]